ВТНЕ-Т1-1 — электронные весы для торговли без стойки. Данная модель изготавливается с наибольшим пределом взвешивания 15 и 30 кг (цена одинаковая). Сфера применения: предприятия торговли, предприятия общественного питания, киоски, рынки и др.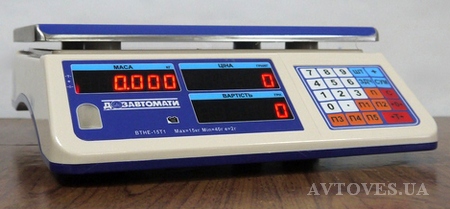 Корпус весов пластиковый, платформа весов размером 320x230 мм изготовлена из пищевой нержавеющей стали. Весы обладают маленьким весом и компактными размерами. Встроенный индикатор горизонтального уровня обеспечивает постоянный контроль правильности установки весов. На корпусе весов со стороны продавца и со стороны покупателя расположены светодиодные дисплеи, демонстрирующие массу, цену и общую стоимость товара. Питание весов комбинированное: от сети 220 В и от встроенного аккумулятора.

Функциональные весы для торговли ВТНЕ-Т1-1 выполняют взвешивание в двухдиапазонном режиме. Присутствуют функции автоматической установки нуля, тарирования, суммирования стоимости всех покупок, в том числе и штучного товара, расчета суммы сдачи покупателю. 10 самых ходовых товаров можно сохранить в памяти весов и вызывать их одним нажатием клавиши на клавиатуре. Светодиодная сигнализация проинформирует пользователя о выбранном режиме работы весов и низком заряде аккумулятора.
General descriptions
Producer of equipment
Kirovograd Plant vesodoziruyuschego Equipment Ltd. Ukraine
Technical descriptions
Weighing capacity
15
NmPV
20 г
40 г, 100 г
Discreteness
2/5 г
Indication
The main body of the balance
Platform size mm
320x230
Power
сеть 220 В, аккумулятор
Weight,
3.9
Ports and slots of expansion
Interface
Без портов
Purchase and delivery terms Buy втне-т1-1 you can send an order from the site by calling (067) 565-93-41, (050) 054-55-36 or sending an e-mail: avtoves.ua@gmail.com.

Delivery
*

is from Dnipro trucking companies in all regions of Ukraine: Kyiv, Kharkiv, Lviv, Odessa, Zhitomir, Kiev, Ivano-Frankivsk, Kirovohrad, Luhansk, Lutsk, Mykolaiv, Poltava, Rivne, Sumy, Ternopil, Uzhhorod, Kherson, Khmelnytsky, Cherkasy, Chernihiv, Chernivtsi and other regions.


*

If the condition does not specify delivery and payment of delivery is not included in the price of the goods.