Jadever JPL — торговые электронные весы без стойки. Они имеют компактные габариты и обеспечивают точное взвешивание товара весом до 15 кг и предназначены для эксплуатации в сфере торговли, заведениях общепита, при выездной торговле. Можно заказать весы JPL-N на 30 кг (цена одинаковая).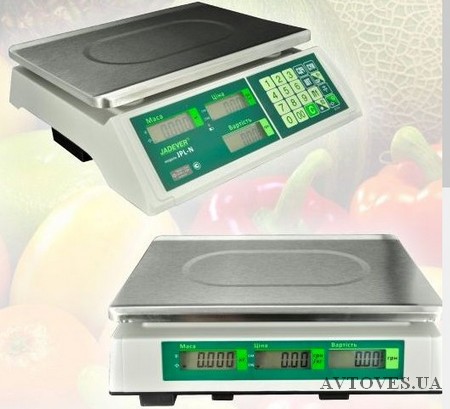 Функции и особенности весов
Измерение в граммах, фунтах, унциях.
Функция автонуля.
Функция тарирования по всему диапазону взвешивания.
Функция расчета сдачи.
Функция накопления.
Весоприемная платформа изготовлена из качественной пищевой нержавейки.
Удобная мембранная клавиатура.
Индикация: двухсторонняя светодиодная (LED) или жидкокристаллическая (LCD).
Технология энергосбережения PCB.
Увеличенная устойчивость к перегрузкам.
Защита весов от перегрузки (500% защиты от перегрузки).
Питание — сеть 220 В через адаптер, аккумуляторная батарея (6 В/4 A).
Индикация уровня заряда аккумуляторной батареи.
General descriptions
Producer of equipment
JADEVER, Taiwan
Technical descriptions
Weighing capacity
30, 15
Power
сеть 220 В, аккумулятор
Weight,
2
Indication
The main body of the balance
Ports and slots of expansion
Interface
Без портов
Purchase and delivery terms Buy ENG: весы торговые JPL-N you can send an order from the site by calling (067) 565-93-41, (050) 054-55-36 or sending an e-mail: avtoves.ua@gmail.com.

Delivery
*

is from Dnipro trucking companies in all regions of Ukraine: Kyiv, Kharkiv, Lviv, Odessa, Zhitomir, Kiev, Ivano-Frankivsk, Kirovohrad, Luhansk, Lutsk, Mykolaiv, Poltava, Rivne, Sumy, Ternopil, Uzhhorod, Kherson, Khmelnytsky, Cherkasy, Chernihiv, Chernivtsi and other regions.


*

If the condition does not specify delivery and payment of delivery is not included in the price of the goods.