2 240,00 UAH
Wholesale 2 172,00 UAH
2 240,00 UAH
Wholesale: 2 172,00 UAH
Vagar VP-N — торговые электронные весы без стойки. Они имеют компактные габариты и обеспечивают точное взвешивание товара весом до 15 кг с дискретностью 2/5 г и до 30 кг с дискретностью 5/10 г. Чаще всего весы такого типа используют в сфере розничной торговли, а также в заведениях общепита.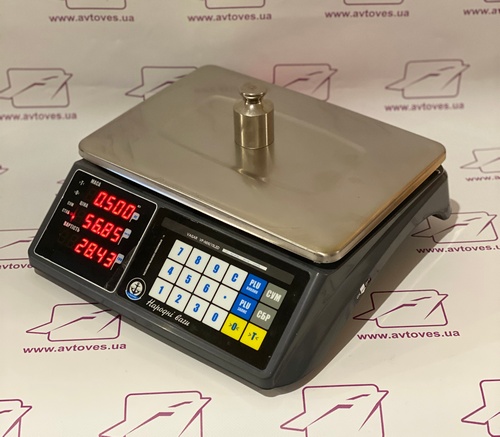 Весы двухдиапазонные и могут производить взвешивание 6/15 или 15/30 кг. Как и все торговые весы, они имеют функцию тарирования по всему диапазону взвешивания. Присутствуют удобные функции расчета сдачи и суммирования стоимости. Частая проблема в торговых весах — продавливаются и продырявливаются кнопки, но в весах Vagar VP-N эта проблема решена. Клавиатура сенсорная, прочная и влагозащищенная.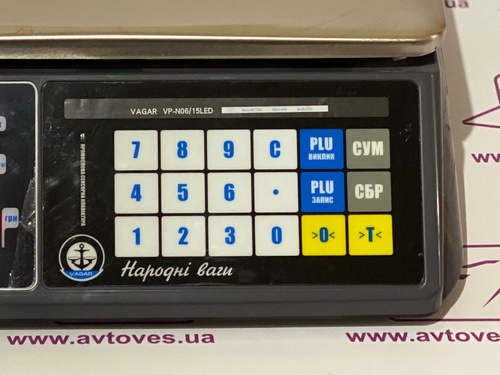 Весоприемная платформа изготовлена из пищевой нержавеющей стали. «PLU виклик» — кнопка для прямого вызова цен расположена на корпусе весов и выделена другим цветом, отличным от цифирных кнопок.
Корпус весов изготовлен из пластика и имеет двухстороннюю индикацию для продавца и покупателя. А если ваши весы будут находиться за витриной или прилавком, рекомендуем приобрести модель весов с индикацией на стойке — Vagar VP.
В весах Vagar для более продолжительной работы от аккумулятора предусмотрен режим экономии энергии. Его можно отключить или выставить на 15 и 25 секунд, т.е. отображение результатов на индикаторах погаснет через заданное время. На дисплее всегда можно увидеть уровень заряда аккумуляторной батареи. Для учета взвешиваний предусмотрен интерфейс RS232 для подключения ПК.
General descriptions
Producer of equipment
Vagar, Ukraine
Technical descriptions
Weighing capacity
15
NmPV
20 г
40г, 100 г
Discreteness
2/5 г
Indication
The main body of the balance
Platform size mm
325x230
Power
сеть 220 В, аккумулятор
Ports and slots of expansion
Interface
RS 232
Purchase and delivery terms Buy Scales trade Vagar VP-N you can send an order from the site by calling (067) 565-93-41, (050) 054-55-36 or sending an e-mail: avtoves.ua@gmail.com.

Delivery
*

is from Dnipro trucking companies in all regions of Ukraine: Kyiv, Kharkiv, Lviv, Odessa, Zhitomir, Kiev, Ivano-Frankivsk, Kirovohrad, Luhansk, Lutsk, Mykolaiv, Poltava, Rivne, Sumy, Ternopil, Uzhhorod, Kherson, Khmelnytsky, Cherkasy, Chernihiv, Chernivtsi and other regions.


*

If the condition does not specify delivery and payment of delivery is not included in the price of the goods.