3 735 UAH
Wholesale 3 622,00 UAH
3 939,00 UAH
Wholesale: 3 820,00 UAH
ВТА-60/15-6D-АС — электронные весы без стойки с автономным питанием для торговли. Предназначены для эксплуатации в магазинах, на рынках. Весы характеризуются высокой надежностью и широким набором различных функций.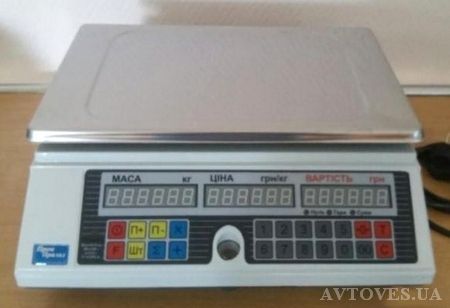 Торговые весы ВТА-60/15-6D-АС обладают весоприемной платформой из нержавейки с размером 220х340 мм. Практичная мембранная клавиатура с целью эргономики размещена внизу на корпусе весов. На фронтальной и тыльной стороне размещены светодиодные дисплеи для демонстрации информации продавцу и покупателю: цена, вес и стоимость товара. Порт RS232 обеспечивает связь с компьютером, кассовым аппаратом, принтером этикеток.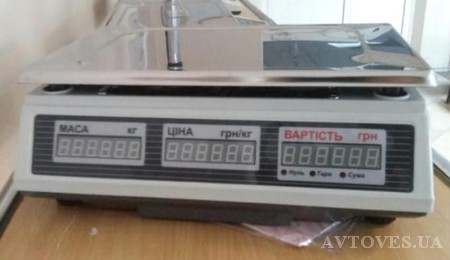 Работают весы от сети переменного тока 220 В или автономно от встроенной аккумуляторной батареи, полный заряд которой обеспечивает работоспособность весов не менее 8 часов. Функция автоматического отключения питания отключит весы если в течение определенного времени с работающими весами не производилось никаких действий.
Функции весов
Автоматическая установка нуля.
Тарирование по всему диапазону взвешивания.
Работа в счетном режиме.
Память цен на популярные товары.
Расчет общей цены нескольких взвешенных товаров.
Расчет цены штучного товара и добавление ее в общую сумму.
Работа в условиях влияния вибрации.
«Дежурный режим».
2-х уровневый контроль разряда аккумуляторной батареи.
General descriptions
Producer of equipment
Prompribor, Ukraine
Technical descriptions
Weighing capacity
15
NmPV
40 г
Discreteness
2/5 г
Indication
The main body of the balance
Platform size mm
220х340
Power
сеть 220 В, аккумулятор
Weight,
4.5
Ports and slots of expansion
Interface
RS 232
Purchase and delivery terms Buy вта-60/15-6D-ас you can send an order from the site by calling (067) 565-93-41, (050) 054-55-36 or sending an e-mail: avtoves.ua@gmail.com.

Delivery
*

is from Dnipro trucking companies in all regions of Ukraine: Kyiv, Kharkiv, Lviv, Odessa, Zhitomir, Kiev, Ivano-Frankivsk, Kirovohrad, Luhansk, Lutsk, Mykolaiv, Poltava, Rivne, Sumy, Ternopil, Uzhhorod, Kherson, Khmelnytsky, Cherkasy, Chernihiv, Chernivtsi and other regions.


*

If the condition does not specify delivery and payment of delivery is not included in the price of the goods.