Weight dispenser of liquid components
Цену уточняйте у менеджера!
1 UAH
The weight dispenser for liquids of the company «Technovagy» is used to account for, dispense and maintain a given capacity of liquid products. The dispenser counts the total quantity of the product passed through it and can transmit this information via the RS 485 interface to a computer or to a programmable logic controller.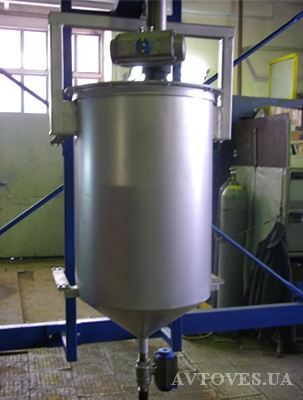 The dispenser of liquid components is completed with a steel painted frame, stainless bunker, strain gauges, inlet and outlet valves with pneumatic actuators, position sensors. The control panel provides control of the dispenser and cranes in automatic or manual mode.
Features and functions
The productivity is 5, 10, 15, 25, 50 t/h.
The weighing accuracy is 0.1%.
Automatic and manual operation modes.
Counters of the account of production.
Indication of the weight of the dose.
Accurate accounting of products.
Dosing of a given quantity of products.
Maintaining the specified performance.
The «Dozator» accounting program for the computer.
The price should be specified from the company manager (see contacts).
Purchase and delivery terms Buy Weight dispenser of liquid components you can send an order from the site by calling (067) 565-93-41, (050) 054-55-36 or sending an e-mail: avtoves.ua@gmail.com.

Delivery
*

is from Dnipro trucking companies in all regions of Ukraine: Kyiv, Kharkiv, Lviv, Odessa, Zhitomir, Kiev, Ivano-Frankivsk, Kirovohrad, Luhansk, Lutsk, Mykolaiv, Poltava, Rivne, Sumy, Ternopil, Uzhhorod, Kherson, Khmelnytsky, Cherkasy, Chernihiv, Chernivtsi and other regions.


*

If the condition does not specify delivery and payment of delivery is not included in the price of the goods.