Laboratory scales ТВЕ-50-1
7 900,00 UAH
Wholesale 7 663,00 UAH
ТВЕ-50-1 — single-sensor laboratory scales with a maximum weighing limit of 50 kg and a discreteness of 1 g. They provide an accurate weighing of different loads at industrial enterprises, in the agricultural sector, in medicine, in research institutes. External calibration is easily performed by the user using the reference weight of the corresponding class. High speed of stabilization of indications (3 seconds) will allow to speed up the production process.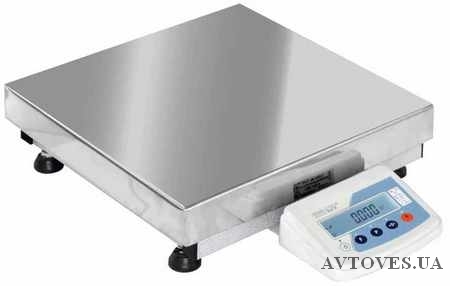 One high-precision strain gauge with IP65 degree of protection is installed in the scales. The frame structure of the scales is steel, powder coated paint for reliable protection against corrosion. Weight platform 400x400 mm is made of polished food stainless steel. The TVP-13 weighing terminal has a screen with a backlit LCD display and an RS 232 interface for connecting the printer and the computer. The scales are operated from the 220 V electric network. For an additional charge, the balance can be equipped with a battery that will allow to work without a constant power source.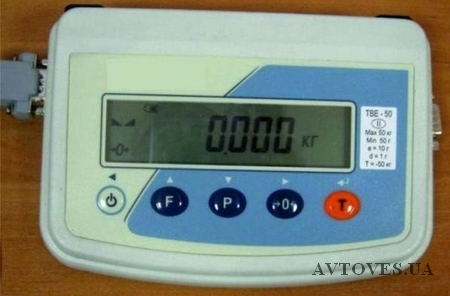 The scales can be weighed in grams or carats and have all the necessary functions: automatic testing, automatic zeroing, taring in the entire weighing range, counting the number of identical objects by weight, automatically switching off the display after a specified period of time.
You can buy laboratory scales of this series with another largest weighing limit — ТВЕ-60-1, ТВЕ-120-2, ТВЕ-150-5.
General descriptions
Producer of equipment
Tehnovagi, Ukraine
Class of exactness to on ГОСТ 24104-88
fourth
Technical descriptions
MLW
50 кг
ДСТУ EN 45501:2007
II high
Discrete, g
1,00
Calibration
External
NmPV
50 г
Power
сеть 220 В
аккумулятор, покупается отдельно
Material of the platform
Stainless steel
Platform size, mm
400х400
Communications
Interface connection
RS-232
Purchase and delivery terms Buy Laboratory scales тве-50-1 you can send an order from the site by calling (067) 565-93-41, (050) 054-55-36 or sending an e-mail: avtoves.ua@gmail.com.

Delivery
*

is from Dnipro trucking companies in all regions of Ukraine: Kyiv, Kharkiv, Lviv, Odessa, Zhitomir, Kiev, Ivano-Frankivsk, Kirovohrad, Luhansk, Lutsk, Mykolaiv, Poltava, Rivne, Sumy, Ternopil, Uzhhorod, Kherson, Khmelnytsky, Cherkasy, Chernihiv, Chernivtsi and other regions.


*

If the condition does not specify delivery and payment of delivery is not included in the price of the goods.